Small Electric Refrigerated Trailers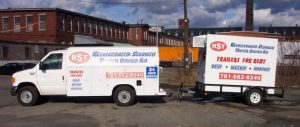 Our small electric refrigerated  trailers (8′ or 12′) and trucks are less expensive and more convenient than our full-size trailers.  They are great for weddings, golf outings, catering, sporting events, corporate outings, seasonal storage, emergency solutions, food delivery and more.  Refrigerated Storage Trailer Leasing transportable coolers and freezers are the practical solution for operators requiring refrigeration on the go.
Our company representatives will tow your cooler unit to your desired location, set up on-site, ensure the unit is working properly, and then when you're done leasing it we'll come back out and tow it away. No need to spend time on pickups and dropoffs!
Small Electric Refrigeration Storage Trailers Include:
Size: 8′ to 12′  electric refrigeration storage pull trailers
Power: 115v/230v, single phase, 30 amp service
Door: 36″x79″ entrance door
Light: 115v interior light
Cooling Capacity: -10 degrees to +40 degrees Fahrenheit
Hitch Connection: Flat 4 plug connection for tail lights
Lock: Lockable clasp on door for pad lock
Safety: Inside safety release
Delivery: Pick-up and delivery service available
24/7 Service: Around the clock service is standard
Our Refrigerated Storage Leasing Options Include:
Daily
Weekly
Monthly
Quarterly
Yearly