Refrigerated Storage Trailer Uses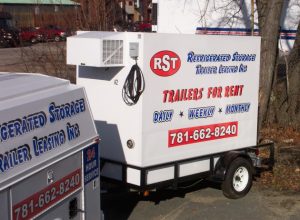 Have you ever not had enough cold storage space? Have you had an issue lately and need a reliable alternative? Are you planning for a large event or shipment of perishable goods? Have you thought about using a refrigerated trailer or transportable freezer? We are here to help you!
Refrigerated trailers are a great option for those who need to transport or store perishable goods and materials that need to be in a temperature-controlled space. Originally used by the ice cream industry, these portable freezer trailers have found a use across multiple industries, including medical, food service, disaster relief and even the military.
Below are a few examples of how we have been able to service customers in the past.